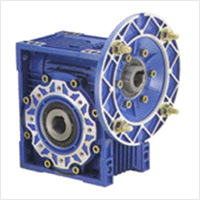 Premium 'AL' series greaves gearboxes are manufactured with high quality material and modern design in order to guarantee the maximum reliability and life
Housing, flanges and feet are made out of aluminium alloy upto size 090 and for sizes 110 and above cast iron is used.
Worm shafts are made of steel and are case hardened to 58-60 HRC and profile ground. The thread grinding in the gear ratios that the module value permits is carried out with ZI-Profile. This improves the contact between the toothed surfaces and therefore performance and reduces operating noise.
The worm wheel has a G20 cast irn hub onto which a casting in AB1 Bronze RIM is fitted. To guarantee long life, ball bearings of reputed make used.
Lubrication of Gearboxes :
Gearboxes are supplied filled with synthetic oil grade ISO VG 320 which is virtually maintenance free and does not require oil change
Range
:
Power range from 0.06 KW to 7.5 KW
Ratio range from 7.5 / 1 upto 100 / 1
Sizes
:
Centre Distance from 30 mm upto 130 mm
Type
:
Worm-Available in Foot & Flange mounted versions
Applications
:
Conveyors, Packaging, Loading, Automation
Industries
:
Material Handling, Pharma, Packaging, Food Processing etc.